MACHINE HEAD NEWS!
June 17, 2020, posted by Crumbs.
Machine Head Releases "Civil Unrest", 2-track-single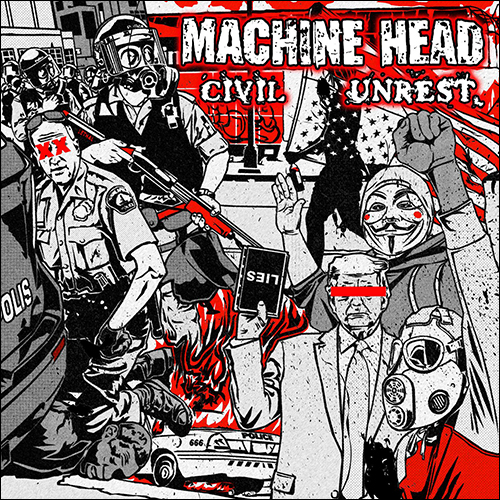 Bay Area metal icons MACHINE HEAD have released 'Civil Unrest,' a 2-song digital single, featuring A-side, "Stop The Bleeding" and B-side, "Bulletproof," with the former featuring additional guest vocals from Killswitch Engage frontman, Jesse Leach. This pair of fierce protest anthems were both written days after the back-to-back murders of George Floyd and Ahmaud Arbery. They are not for the faint of heart.

Stream or purchase the incendiary tracks:
nuclearblast.com/mh-civilunrest

The gritty performance video was directed and edited by Mike Sloat, shot on location on the streets of Oakland, CA, with Jesse's part filmed in Kingston, NY with David Brodsky.

Watch the music video:
youtu.be/pXiwr6OsYcM

The B-side, "Bulletproof" is a new song, also recorded with Carlos Cruz [WARBRINGER] on drums, and Jared MacEachern [MACHINE HEAD bass guitar] back in December 2018. Flynn adds, "The lyrics for 'Bulletproof' were finished in the aftermath of not only the Ahmaud Arbery murder at the hands of white supremacist, but everything twisting out of control in our World. The isolation and craziness of the pandemic, the lockdown protesters storming government buildings with AR-15's, as well as the blatant lies and conspiracies pouring out of our political leaders' mouths, hour by hour, day after day."
The songs needed something visually provocative as 'sleeve artwork,' so the band looked to longtime collaborator Strephon Taylor who hand illustrated various elements from this moment in time, to make a powerful statement about America and the World.
Both tracks were produced by Robb Flynn (Machine Head, Roadrunner United, Sworn Enemy, Dress The Dead) and engineered by Zack Ohren at Sharkbite Studios in Oakland, CA, with the devastating mix being handled by long-time MACHINE HEAD collaborator and producer extraordinaire, Colin Richardson, together with Chris Clancy at Audioworks Productions UK. The tracks were mastered by Ted Jensen at Sterling Sound.
MACHINE HEAD are donating a significant portion of their streaming proceeds from "Stop The Bleeding" to http://grassrootslaw.com, the organization representing George Floyd, Breonna Taylor, and Ahmaud Arbery.


Source: MachineHead1.com
TakeMyScars.com - A Place Dedicated to the Mighty Machine Head!