MACHINE HEAD NEWS!
January 21, 2014, posted by Crumbs.
Full Setlist From Robb Flynn and Friends Benefit Concert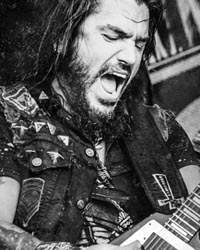 Here is the full setlist of the "Robb Flynn & Friends" benefit concert this past Friday, January 17 at the Oakland Metro Operahouse in Oakland, California.

Members of MACHINE HEAD, METALLICA, SLAYER, TESTAMENT, EXODUS, SUICIDE SILENCE, FORBIDDEN and HIGH ON FIRE performed classic songs by BLACK SABBATH.

1. Cornucopia (Intro)
2. Supernaut
3. Children of the Grave
4. Symptom of the Universe
5. Iron Man
6. N.I.B.
7. Electric Funeral
8. National Acrobat
9. Lord of this World
10. Tomorrows Dream
11. Changes
12. Sweet Leaf
13. Into the Void
14. Killing Yourself to Live
15. Paranoid
16. Hole in the Sky
17. War Pigs

Thanks to Charles


Source: TakeMyScars.com
TakeMyScars.com - A Place Dedicated to the Mighty Machine Head!