THE GENERAL JOURNALS: THROWBACKTHURSDAY
Posted: May 16, 21:15, by Crumbs
I recently helped my mom move from San Leandro to Pleasant Hill, which is closer to me, warmer and nicer. During the move we found all kind of classic...
THE GENERAL JOURNALS: THE JOURNAL "SACK"
Posted: May 8, 05:12, by Crumbs
Re: JEFF HANNEMAN - I was in Gulf Shores on a company trip with all the owners and top employees, when my best friend texted me the sad news about Jeff...
THE GENERAL JOURNALS: JEFF HANNEMAN
Posted: May 4, 15:10, by Crumbs
Still can't believe the Jeff Hanneman from Slayer is dead, things like that just don't happen. Thrashers don't die??!! WTF!!?? I'm not going to sit here...
THE GENERAL JOURNALS: JUST A VESSEL
Posted: May 2, 21:08, by Crumbs
Been writing a lot of lyrics lately, it's been going slow, still trying to find that "thing", that "subject", that "hook" for each of the 4 finished songs we have...
Bleeding, from my eyes

This plague is sent to erase us

Bleeding, from inside

These vermin, canít infiltrate us
/Locust, 2011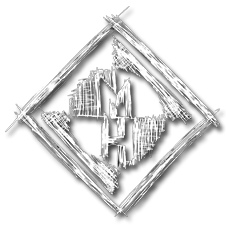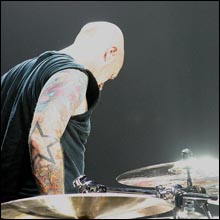 Dave McClain at "The Forum" during the "Heaven and Hell Tour" on april 25, 2007.
Photo by: DirtJunior.com

| | |
| --- | --- |
| Shows in database: | 1452 |
| Songs in database: | 144 |
| Articles in database: | 701 |
| Forum Posts: | 335 |
| Registered Users: | 420 |
| | |
| --- | --- |
| Jun 24, 2013 - Spokane, WA, US | |
| | |
| --- | --- |
| Jun 26, 2013 - Portland, OR, US | |
| | |
| --- | --- |
| Jun 28, 2013 - Fresno, CA, US | |
Rockstar Energy Drink Mayhem Festival 2013
| | |
| --- | --- |
| Jun 29, 2013 - San Bernardino, CA, US | |
| | |
| --- | --- |
| Jan 26, 2013 - Fullerton, CA, US | |
| | |
| --- | --- |
| The Slidebar Rock-N-Roll Kitchen | |
| | |
| --- | --- |
| Jan 25, 2013 - Anaheim, CA, US | |
| | |
| --- | --- |
| Anaheim Convention Center | |
| | |
| --- | --- |
| Jan 24, 2013 - San Diego, CA, US | |
| | |
| --- | --- |
| Jan 23, 2013 - Riverside, CA, US | |
| | |
| --- | --- |
| Nov 22, 2001 - Eysines, France | |
| | |
| --- | --- |
| Jul 25, 2013 - Cleveland, OH, US | |
| | |
| --- | --- |
| Jun 28, 2013 - Fresno, CA, US | |
| | |
| --- | --- |
| Jun 26, 2013 - Portland, OR, US | |